In an effort to reach a larger audience we will begin streaming on our YouTube channel tonight. Please follow this link to watch live and also click subscribe to get notifications of future streams.
https://youtu.be/A9XtfClyrUE
Important announcement about Shaffer Track & Field. See image for details.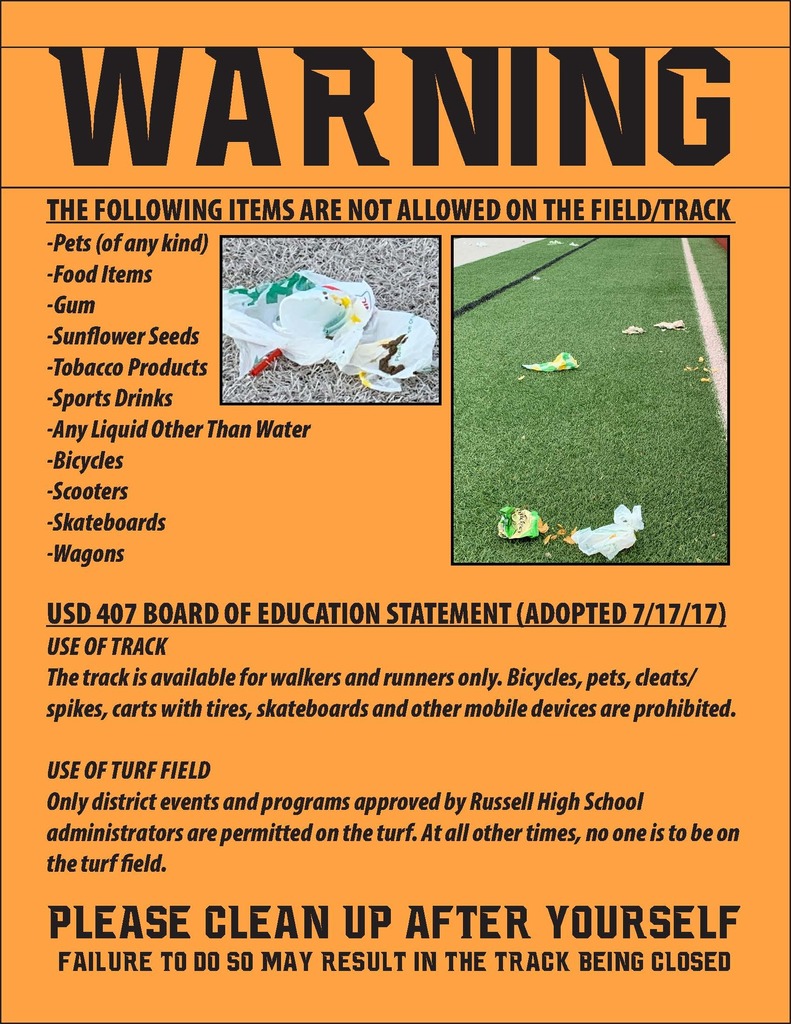 Russell Family Medical Care will host a free Sports Physical Clinic on July 15 from 9:00 - 3:00 pm. Due to COVID-19, appointments must be made. Call 785-483-3811 to schedule your appointment.
USD 407 has been awarded $4,849 through a grant funded by the Kansas Health Foundation and the Sunflower Foundation for summer meals. For more information on this award and to see the entire list of recipients, please see the press release:
https://5il.co/hgq6
.

The Board of Education will be holding a retreat/special meeting on Saturday - June 27th. Follow the link to review the full agenda:
https://5il.co/hg00
Congratulations to the Class of 2020! The Graduation Program can be found at this link:
https://5il.co/he4f

It's a beautiful day to celebrate the RHS Class of 2020! If you're coming to enjoy 10:00 AM graduation @ Shaffer Field, you might bring something to dry the damp bleacher where you'll sit for the outdoor event.

USD 407 Community and Students: The world seeks us to pay attention to some details in recent weeks that perhaps we've not. With the turmoil that has boiled up from prejudice and racism in the society at large, USD 407 takes a moment to view these things reflectively and with compassion. USD 407 believes in personal wellbeing and safety at all schools. We know that we cannot police or create a perfect environment, but our policies and procedures promote and set a standard of equality in our hallways, classrooms, and the opportunities that school offers. Staff, students, visitors, leaders, and families are inclusively welcomed regardless of one's background. We care about both the present and the potential of USD 407 students. We wish for anyone who comes to our schools to feel confident and safe as they enjoy our schools and activities.
KRSL is excited to announce their Royals Baseball Clinic will be back in Russell for its 13th year. Mark your calendar for Friday, July 10 starting at 10am at the Memorial Park Complex.​ Access the registration form: ​
https://5il.co/h0ho​​

Alumni & Families: If you know of anyone looking for a position in the ag industry, Lang Diesel Inc. is hiring several positions. They have dealerships throughout Kansas. Below is information in regards to a position at the Hays location that is ready to hire. So if you are or know of an ag service tech searching for a job, this is a great opportunity. Ag Equipment Service Tech needed at the Lang Diesel Inc., Hays, Kansas location. Position comes with full benefits that includes health insurance. Go to
www.langdieselinc.com
and click on CAREERS. Also important for our current students: Lang Diesel offers a scholarship/tool program and internship program as another tool to grow thier workforce. Great opportunity for today's youth.

The Board of Education will be holding their regular monthly meeting on Monday - June 8th at 5:30 p.m. Follow this link to see the full agenda:
https://5il.co/gxw0
Russell Rec is offering Baseball & Softball programs for boys and girls ages 5-15. Registration ends Friday, 6/5. The season will be 6/8-7/9. Register on the rec's website, or by picking up forms at the rec center. Call 483-6966 or email
director@russell.com
for more info.
Reminder: The Driver's Ed class will begin on June 15 at the RMS Cafeteria from 8:00 am to 12:00 pm; perfect attendance is required. The driving portion will begin on June 29.

The Board of Education will be holding a special meeting on Thursday - June 4th. To see the full agenda, follow this link:
https://5il.co/gubn

Many have wondered what that odd crop is that was drilled on the FFA Ag Science Plot. Field peas for great high protein supplements in livestock rations.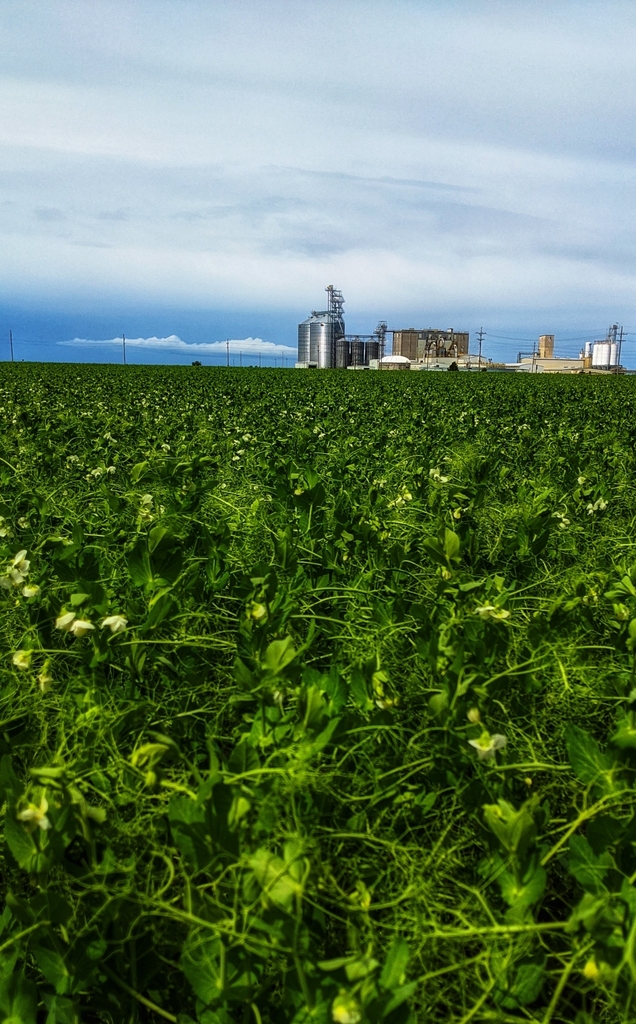 Pick up your Grab and Go meal at Russell High School on May 20 from 11:00 am - 12:30 pm. See the photo for more details.

#KSclassof2020 Appreciation Day is May 20, 2020! A group of more than 60 Seniors created this statewide trend; come one Broncos, let's show off!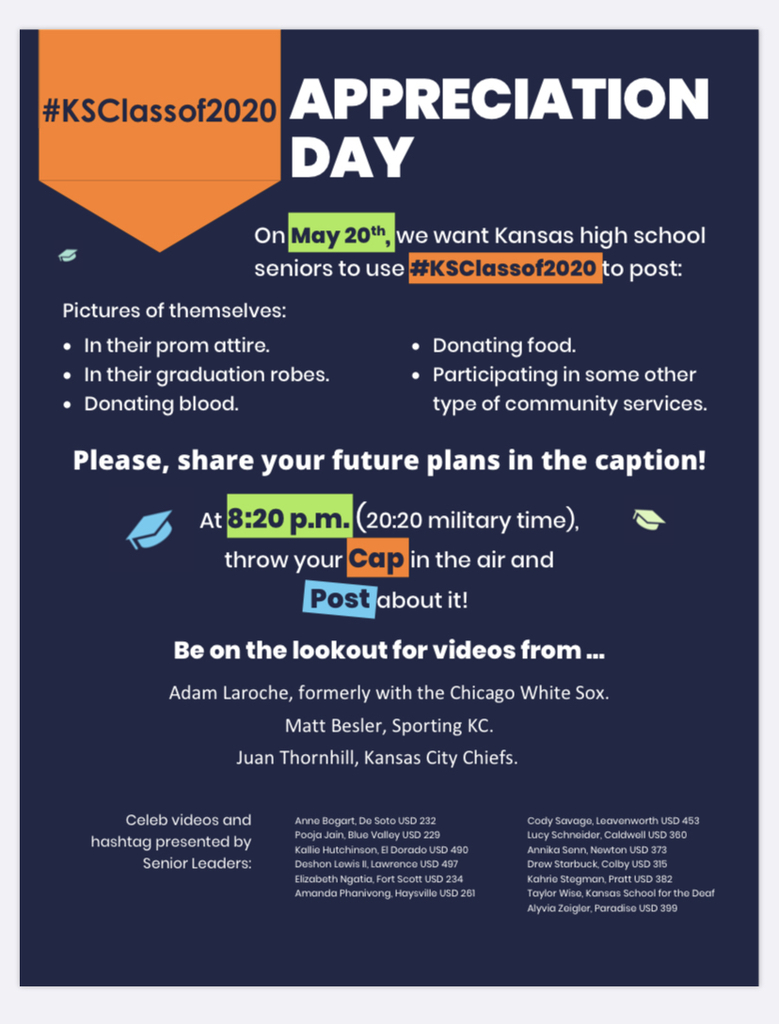 Tune in to KRSL Radio 95.9 @ 7:30pm for a special RHS Class of 2020 Spotlight on Saturday, 05/16. A great way to celebrate & enjoy these Broncos!

The BOE will be holding a special meeting on Tuesday - May 19th at 5:30 p.m. Follow this link to review the agenda:
https://5il.co/g5jr
USD 407 had the honor of celebrating this year's retirees at the drive thru reception on 5/13 at SES. Congratulations to Debbie Dumler, Rudene Niedenthal and Cecilia Shumaker and thank you for your years of service!