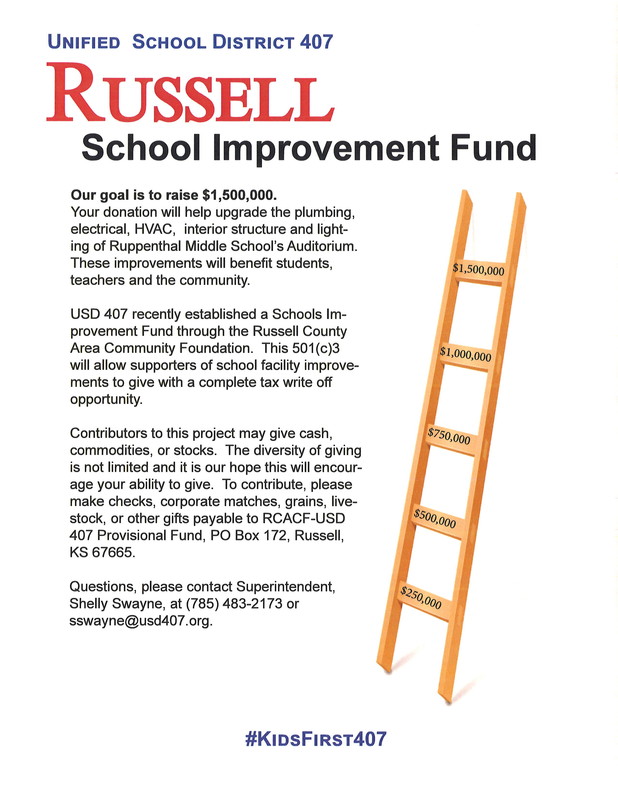 RUSSELL - USD 407 hopes to raise $1.5 million to support much needed improvements for the Auditorium at Ruppenthal Middle School. The specific scope of this current Capital Campaign would be to update plumbing, electrical, HVAC, interior structure, and lighting of the Auditorium. It is crucial to our work that USD 407 determine the possibilities that fundraising can create as soon as possible. Depending on the success of our work in fundraising for this project, this venture may be used in conjunction with a bond ballot to satisfy these and future needs.
This Capital Campaign comes off the heels of two failed bond elections in 2019. Many community members requested a fund to contribute to as an alternative to such elections; USD 407 wants to respond to those requests. USD 407 recently established a Schools Improvement Fund through the Russell County Area Community Foundation. This 501(c)3 will allow supporters of school facility improvements to give with a complete tax write off opportunity.
Ruppenthal Middle School was opened for school on January 3, 1938. In 1993, the 6th Grade wing and cafeteria was opened. The auditorium provides many arts and presentation events to students and the community. Without these electrical, plumbing, HVAC, interior structure, and lighting updates; USD 407 will be limited on the future opportunities to offer in our community.
Contributors to this project may give cash, commodities, or stocks. The diversity of giving is not limited and it is our hope this will encourage your ability to give. To contribute, please make checks, corporate matches, grains, livestock, or other gifts payable to RCACF-USD 407 Provisional Fund, PO Box 172, Russell, KS 67665.
Questions, please contact Superintendent, Shelly Swayne, at (785) 483-2173 or sswayne@usd407.org.
Shelly Swayne, Superintendent