EDIT MAIN
History
In 1950, Bickerdyke and Simpson Elementary Schools were started in Russell to replace the original Southside and Northside Schools. Because the old schools were razed, the school children had to meet in churches around town while the new schools were being built at the same locations. SES is named in memory of Marietta Jane Simpson, who, for fifty years, taught in the Northside School which SES replaced.

The following is an excerpt from the Open House brochure. Published on November 11, 1951
Like a great many other school buildings constructed during the past few years the Marietta Jane Simpson building underwent a number of changes and revisions between the time of its first planning and its final construction. Designed to be as functional as possible, it is a one story low rambling building of fire proof structural concrete with buff colored brick on the outside. The taller part of the building towards the South is an auditorium-cafeteria combination which can also be used as a play room and gymnasium. The lower part, which is "L" shaped, consists of eight regular class rooms and one large kindergarten room, together with offices, rest rooms and furnace, janitor and storage rooms.
Since the kindergarten children have their first contacts with school at five years of age and this is their first break from the home circle, it is important that the school environment be vitally interesting, attractive and challenging. A visit to the Simpson Kindergarten room will reveal that a lot of care has been taken to provide a good start for each new child. The facilities are quite self contained - wardrobes, toilets, drinking fountains, storage bins, tables, chairs, and so forth are appropriate in size and within easy access. Since the learning processes, especially for young children, involves the "doing of things" as much as "learning about things," it is necessary to provide class rooms that are harmonious for use, and storage of materials that are at the same time attractive and helpful. Class rooms in the Simpson Building are 36 feet long and 24 feet wide.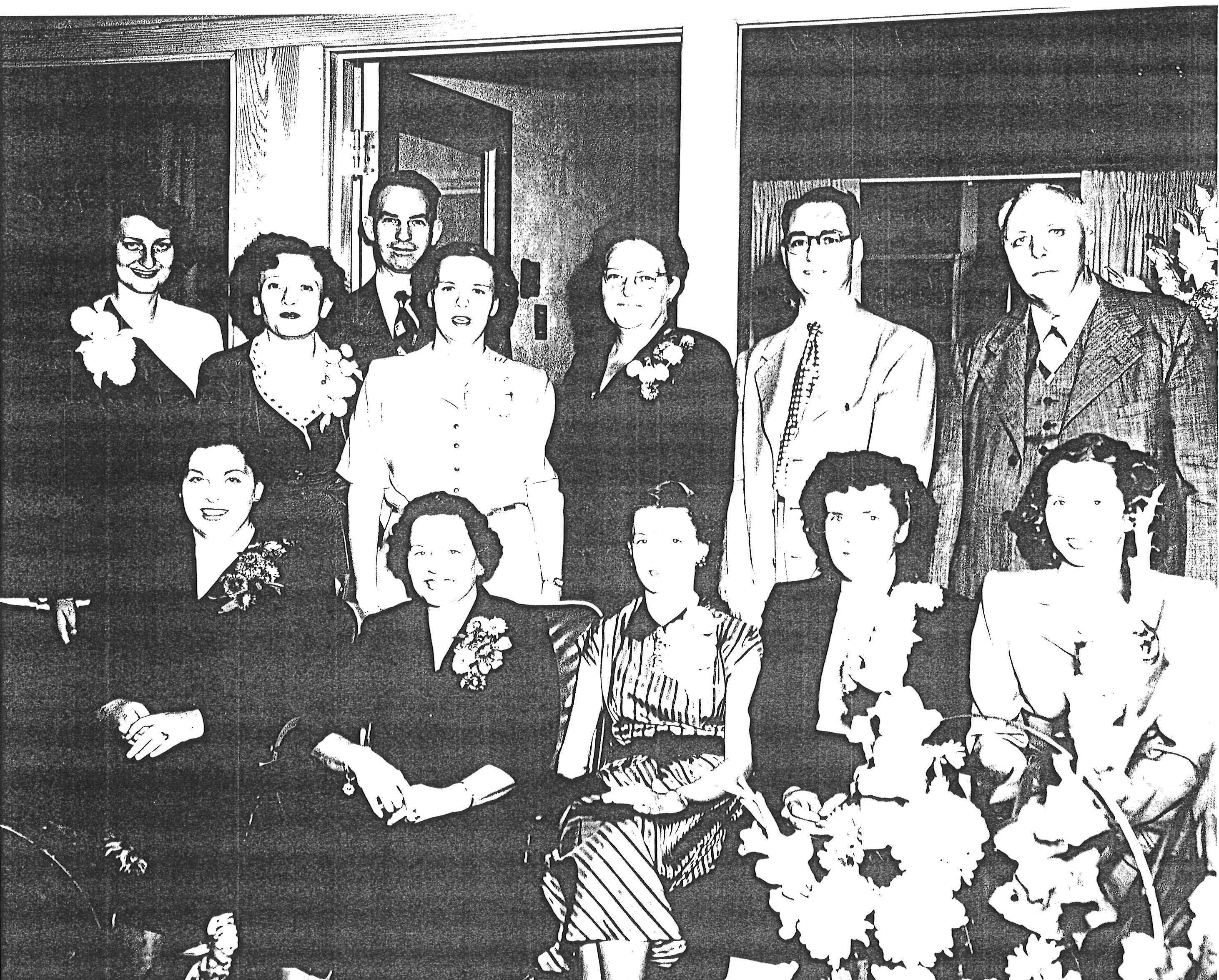 A maximum of natural light is provided in all class rooms by means of very large windows and this light is diffused by means of natural colored translucent drapes. In addition, these provisions for natural light are supplemented by the very latest in fluorescent light fixtures in each class room; the fluorescent lights are of a low brightness type but, nevertheless, provide highly satisfactory lighting at desk height. Also, additional provisions have been made to conserve eye sight and make a very attractive class room. Green chalk boards made of glass, and light colored tack boards, together with light shades of paint on the plastered walls, provide the greatest visibility with the least eye strain. Blonde movable furniture has been used throughout the building and light colored asphalt tile is to be found on the floors in every class room and all. A special type of acoustical plastering has been used for the ceilings of the rooms which makes the rooms more quiet than otherwise would be the case. An adequate supply of heat is provided by means of unit radiators with thermostatic controls in each room. Excellent ventilation is provided without drafts, as fresh air is properly heated and brought into each room, and the bad air taken out, all by mechanical devices.
Foot control wash fountains are used in the rest rooms in order to encourage more cleanliness and also, to provide a means for the prevention of spreading disease germs. The contract for the Simpson Building was let to L.R. Foy Construction Company of Hutchinson, Kansas, for the amount of $221,278.00. Architect for the building is Edward Fuller of Kansas City, Missouri. Mr. Fuller drew the detailed plans and has supervised the construction.
The cafeteria has a room modern and well equipped kitchen, designed to provide facilities for feeding all pupils attending the school, and who may desire to eat in the cafeteria. Folding tables and benches, which fit into the wall, have been used in the cafeteria so that the room can readily be converted into a play room, gymnasium or auditorium.
Throughout the building an IBM clock and bell system has been installed, and the RCA system of inter-communication between rooms and the central office has been used.