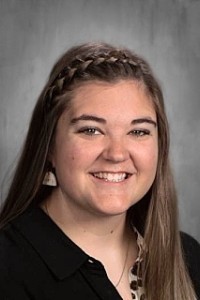 Congratulations to Miss Kinsey Volk for being nominated for the Kansas Department of Education's Horizon Award! The Horizon Award recognizes exemplary first-year teachers who have excelled in their first year of teaching!
Miss Volk is in her second year of teaching music at Bickerdyke and Simpson Elementary Schools. Everyday, she strives to make music fun and meaningful and has received many grants to accomplish this. Due to her efforts, the Bickerdyke Bunch participation has almost doubled!
To be nominated for this award, parents, staff, and administrators must send letters of support.
One parent letter said it best; "My children very much enjoy her class and come home sharing their experiences and the knowledge they are gaining in Miss Volk's classroom. Weekly, they also get additional time with Miss Volk as the children's choir director. Miss Volk dedicates so much time, energy, and effort to ensure that her students are learning the material and motivates them to even spend time outside of the classroom practicing their music!"
Miss Volk's nomination form will be reviewed by other educators from across the state. Four elementary and secondary teachers will be selected in each of Kansas' congressional districts.