Russell, KS - USD 407 is proud to announce Mr. Andrew Stueve as the new Activities Director at Russell High School for the 2022 school year.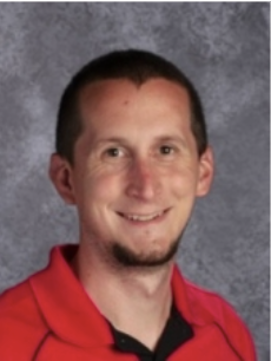 Mr. Stueve's contract will begin July 1, 2022.
Mr. Andrew Stueve has been a teacher, coach, and mentor for Seaman High School, Topeka, since 2013. He has been an instructional leader in high school mathematics and physical education in his career. Mr. Stueve will begin his administrative career in this RHS AD role with building leadership team and district leadership team experiences in the USD 345 schools. USD 407 Superintendent Shelly Swayne comments, "I am excited to see Mr. Stueve bring his organizational, communication, and experienced coaching and instructional insight from the Topeka system. I know Andrew's work will shine, and he will grow Russell High School students and staff."

Andrew achieved a Bachelor's Degree in Physical Education from Washburn University; and a Master's of Science in Educational Leadership from Emporia State University. He and his wife, Jaycea, have two children, Cayson (4) and Kylan (9 months).

Mr. Stueve offers his thoughts, "First off, my family and I are very excited to join the Russell community. Extracurricular activities play a vital part in the education of our youth, and I look forward to building on the programs that RHS offers our students. I am truly blessed for the opportunity to work with the students and staff of RHS. Go Broncos!"

A meet and greet opportunity will be scheduled and hosted by USD 407 later this summer or at the beginning of the 2022-2023 school year.